WHERE to find Good & Nice & Best Food to EAT in Sengkang and Punggol ??? 吃吃吃!盛港榜鵝最好吃的美食推荐! As a resident of Sengkang since 1999,, i had personally patronised many of these food outlets !  I have selected ONLY some to consolidate them into this Personal List of Best Food Gems in Sengkang and Punggol.  Some of them are recommendations by friends !!! 有人说盛港和榜鹅没有好吃的,于是我开始寻找盛港和榜鹅最好吃的美食,然后把我吃过的,觉得好吃或比较特别的美食,分享介绍给大家。
Disclaimer:  Standards of recommended outlets may differ from time to time, chefs and their moods, raw ingredient batches may be different, Personal preferences may vary too. One man's meat may be another man's xxxx.   Use this only as a guide to locate these outlets, and use your own personal judgement to decide if you want to try eating. 人人口味不同,请用这里的美食讯息作为参考。希望您能找到您所喜欢与爱吃的食物!
AND REMEMBER TO EXERCISE TO EAT.  Click HERE to check out the exercise group who does Zumba, Tabata & Kickboxing, FIT CLUB in Sengkang and Punggol !!!
As this post is getting very long, sometimes loading speed is very slow.  i have attempted to consolidated them into shorter and more specific list, just click your preference of the the moment !  More Lists are on the way。由于这个盛港榜鹅美食单子太长了,我把类似的分门别类放进以下的小清单:
Best Noodles Mee Pok 從盛港到榜鵝面类美食
Best Cze Char Zi Char 從盛港到榜鵝煮炒
Best Chicken / Duck / Roasted Delights 從盛港到榜鵝雞鸭烧肉烧腊飯面
Best HALAL Malay / Indian / Fusion Food 從盛港到榜鵝馬來印度美食
Best Thai / Vietnamese Food 從盛港到榜鵝泰國越南美食
Best Japanese / Korean / Fusion / Western Food 從盛港到榜鵝日本韩国料理与西餐美食
Eat Eat Eat all the way to Hougang , Ang Mo Kio, Macpherson, Pasir Ris and Beyond
There are food that do not have a specific category, they are still in this long list. If you like to browse this super Long List for random choices, HERE we go !!!  The Best food gems in Seng Kang and Punggol, not in order of preference.  Enjoy !!!   如果您比较随性游览我的盛港榜鹅美食长龙,欢迎继续前进。。。
---
LIKE  MY FACEBOOK PAGE  FOR THE LATEST FOOD POSTS
---
@ $2 CHICKEN RICE,PUNGGOL 两块钱鸡饭,

榜鹅
261 烧腊饭、面 ROASTED DELIGHTS .
Address : Blk 308C Punggol Walk (Foodgle Foodcourt) Singapore 823308. Waterway Terraces I
Near Sumang LRT

$2 Chicken Rice!!! 🌟 Very Nice, Decent Portion and Value for money!!! Where to find in Sengkang & Punggol 🤣
This stall was mentioned sometime back by one of our member, Mr Toh. Been to this foodcourt many times, but didn't really try until today. I thought it will be very small portion with very little chicken!
Today, when my $2 chicken rice came… Eh, looks like what you normally get for a $3 or $3.50 plate.
The chicken is 🌟. Not fat and oily. Thin roasted chicken skin. Rice also 👍. Their chilli is good too. Very worth it!
I was curious why the stall name is 261 Roasted Delights when the address is 308C Sumang Walk. I asked the owner and he told me that he was previously operating at Blk 261 (near Soo Teck LRT) and when he shifted to the current location, he wanted his customers to know that his stall shifted from 261.
Hope they can maintain the chicken standard and the portions like today. It will be really good for residents in Punggol and Sengkang! A very decent $2 meal! Value for money. In Sengkang & Punggol, not sure if you can find any other decent-portion chicken rice at $2.
---
@ THAI FOOD ,PUNGGOL 泰国餐,

榜鹅
KIN KAO MAI
Address: 50 Punggol East (Container Park) #01-K33 S(828826).
Sawadee Kup!Kin Kao Mai ?
In thai language, it means 要吃吗?Want to eat? Found a eatery with name Kin Kao Mai.
i have not touched thai food for quite some time。And i have not tried this shop as it us one of the newer eatries at Punggol East Container Park。 It is about 1-2years old。
Last night:
just finished a walk near Tebing lane,and i heard authentic thai music playing in the background。so,i walked up to the shop to asked for a menu。
eh… i saw mostly western food stuff,i was puzzled 🤯, I turned and looked at the Signboard above: Kin Kao Mai is definitely Thai to me !!! Then the waiter asked if i was looking for thai food, then i was directed to the thai menu。
i was deciding to try their olive rice, shrimp paste rice or pineapple rice。 in the end, i chose Pineapple 🍍!and as for the drink,i thought of taking a glass of Singha beer 🍺 ,then i chose a healthier Fresh Coconut 🥥 !
And it turned out to be a very good choice!i enjoyed both the pineapple rice and the fresh coconut! Love the thai music too。
I travelled back in time listening to these 🇹🇭 music, dreaming about the times when i was at Krabi, Phi Phi island, Phuket,Ko Samui and Hatyai。We would take 12hour coach 🚌 ride from Singapore to Hatyai and then transferred 7hour mini-bus ride to other parts of thailand。Those were the days before budget airlines!
---
@ BEEHIVED HOMEMADE PINEAPPLE TARTS, SENGKANG. 手工特製新鮮黃梨酥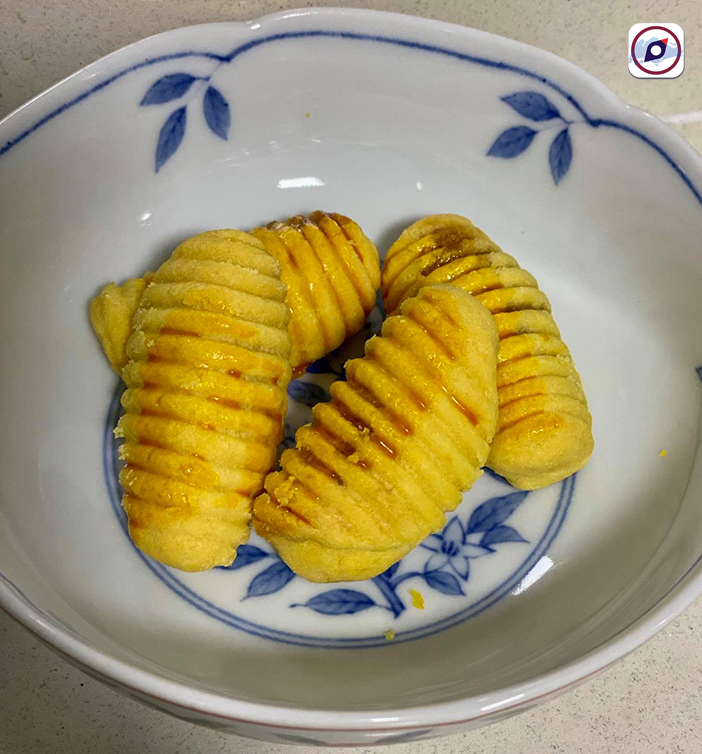 Super Nice Pineapple Tarts.  You just cannot stop at one !!!   Lena's friend ordered 6 containers, took bus back home. By the time, she reached home, she only had got 5 containers left !!!  SHE FINISHED ONE WHOLE CONTAINER on her bus trip !!!!
The story goes back 30+ years ago when Lena help out in her Mama's Bakery shop in Boon Keng.  She was only Sec 1 when she got her hands on baking and make aromatic tarts and biscuits.  Her Mama had a lot of Indonesian friends and travelled to Jakarta to learn from bakery Shifus the unique skills of baking Super Nice Pineapple Tarts.  The Pineapple tarts are shaped like "beehives", and these help to keep the tart fresh and their shelf life longer without preservatives.  Lena says Pineapple tarts at her mama shop was and is the Best !!! Click HERE for more details.  LIMITED QUANTITY PRODUCTION, WHILE STOCK LASTS.
---
[Latest] 2021 CNY PREORDER
2021 Chinese New Year will be on 12th & 13th Feb 2021.   Ms Lena, the baker, has some past clients already placing orders for her Pineapple tarts and cookies.  For those interested in her pineapple tarts and Cashew & Cornflakes cookies, you can preorder by Whatsapp her directly at 90882774 (Click number to WhatsApp).
Pineapple tarts : Small Container (about 30pcs) & Big Container (about 50 – 55pcs).  Pricing is $15 for small Container and $28 for Big Container.  Limited quantities only. First Come First Serve.
---
@ BICYCLE CAFE, SELETAR AEROSPACE(NEAR SENGKANG) 有型脚车咖啡屋,近

盛港
SOEK SENG 1954 BICYCLE CAFE
Address: 80 Seletar Aerospace View #01-01 Maj Aviation Building
Singapore 797563
Opening hours: Tue, Wed, Thurs & Sun 10am to 10pm.
Fri & Sat 10am to 11pm.
Mon closed. The kitchen is closed from 3pm to 5pm (Tue to Sun).
A small group of us cycled 🚲 from Sengkang to this interesting cafe facing the runway for small private jets.
It was a short distance cycle 🚲 from Jalan Kayu. A little getaway from the normal shopping malls. A very good place for cyclists and family with kids.
Have not been here for a long time…Soek Seng 1954 Bicycle Cafe.
We reached there before sunset 🌅 and we were just in time to see a small jet 🛫 taking off the runway in close distance. Sound was not very loud like Big Planes ✈️ …
They serve Western Food, some other delights like Katsu don, Unatamadon (Unagi Eel Rice), Pasta, Panggang Chicken, Beef Rendang.
They have Erdinger, Guinness, Kilkenny, Strongbow, Rokerderlig Ciders and other 🍻…cheers. Ice Lattes, Cappuccino, Mocha, Camomile tea, Fresh coconut 🌴 , etc and small eats like Chicken wings, Cheese fries, Yakitori & Seafood Rolls. Family-friendly.
Foodwise: the 3 items we ordered (sirloin steak, chicken wings and seafood roll) were quite normal.
Ambience wise 🌟🌟🌟. Can go there for a chill-out 🍺🍻 during weekends
You can see more pictures/maps on my Facebook post: https://www.facebook.com/611782339290679/posts/1050967965372112/
There are limited Carpark lots 🚘 . Cycling 🚴‍♂️ is most recommended. We used PCN (Park Connector Network) and road pavements only, not cycling on road. Quite safe, but some of the road pavements (along Piccadilly road) are quite narrow, so please be careful and ride slowly.(Look at maps and instructions on how to cycle to Seok Seng Cafe from Jalan Kayu, only a short distance away)
If u drive 🚘 , go slightly earlier (before meal times) during weekends.
Note: The first time I went, I followed the GPS on my phone and it led me to the wrong building. So I included the maps in the pictures so that you get it right the first time.
From the maps in my Facebook posts: Old Birdcage Walk seems to be shorter, but we usually take the "safer" outer route via Seletar Aerospace View (as indicated by the purple dotted line in the picture). There is a Soek Seng signage near the entrance to the carpark。Once u see it, you are on the right track! Enjoy 🥳
Mothership featured my Facebook post & pictures : https://mothership.sg/2020/11/soek-seng-cafe-seletar/
---
@ SUSHI & JAPANESE FOOD, PUNGGOL 寿司日本餐

,榜鹅
SUSHIRO
Address:  Waterway Point (Shopping Centre), 83 Punggol Central #01-31/32 Singapore 828761.
More Pictures at my Facebook Post: https://www.facebook.com/611782339290679/posts/1048635738938668/
[NEW][PUNGGOL] Sushiro, 🇯🇵 Japan's Most Popular Sushi Chain is in Punggol now. Just opened a few days ago. This is their fifth outlet in Singapore. Their other branches are at Tiong Bahru Plaza, Isetan Scotts, Causeway Point and Bedok Mall.
Just popped by Waterway Point to try some of their sushi & dessert.
1) Cold Chawamushi ( 🥶, my first try on the cold version, usually I like hot ones! Anyone tried? )
2) Whole Spear Squid Sushi 🦑
3) Salmon Belly Sushi 🍣
4) Premium Eel Sushi 🍣
5) Tuna Sushi 🍣
6) Hattendo Melon Pudding. 🍨
My order was delivered by the top conveyor lane. Was fast…. when u hear the music, it means your order arrived. See video in my Facebook  post : https://fb.watch/1W65y1NPTA/
FYI: You are allocated 60minutes to finish your meal.
And when I pay, I was given a yellow card 🟨. Haha, it is not the kind of foul card you receive in a soccer ⚽️ game 🥳, it is a "good-ness" card !! You get rewarded on EVERY third visit (minimum $20 spend). You can redeem their cute gifts 🎁 . Very cute Dakkozushi collectables 👍. Just look at my picture of the display shelves behind their counter.
Below are some of our Facebook members recommendations ( you can read all in this post comments sections for more insider info):
Novia : cream crab croquette and salmon with onions~ very nice 👍 .
Esther : Avocado shrimp, ebi 3 platter. Pudding is a must try, Warabi mochi.
Felicia : all the prawns ones and the ramen is super good. 👍
Btw, my way of eating sushi (dipping the rice into soya sauce) is incorrect. 😅.
Just went for a refresher traditional sushi 🍣 etiquette video course by renowned Japanese Chef : https://youtu.be/No5cmnjtNag
The traditional sushi etiquette according to chef Nobu Matsuhisa:
1) Don't put wasabi into soya sauce. Put sashimi fish into soya sauce, then take a little wasabi and eat with sashimi.
2) Make half turn (of nigiri sushi), take the sushi 🍣 with the chopsticks and dip the fish side of the sushi into the soya sauce, without the rice touching the soya sauce.
3) Eat everything in one bite, not two bites. Sashimi, nigiri sushi, sushi roll … in one go (mouthful).
4) Eating ginger slices in between sushi for better tasting. Cleanse & refresh your palate.
5) Eat from Light to Heavy (fatty fish).
6) And Final Sushi should be Sushi roll.
I shall try to do all these for my next Sushi meal
---
@ SAUERKRAUT FISH, GRILLED FISH & FRAGRANT CRAB, SENGKANG 老坛酸菜鱼,烤鱼,香辣蟹

, 盛港
TAI ER 太二

.
Address: 1 Sengkang Square, #02-31, CompassOne, Singapore 545078.
Opening Hours: 12pm to 10pm weekdays. 11am to 10pm weekends.
More pictures on Facebook Page: https://www.facebook.com/611782339290679/posts/1045162032619372/
Tai Er was founded in Shanghai in 2015, and they are very famous for their 酸菜鱼Sauerkraut Fish (Pickled Cabbage 🥬 Fish🐟 ). There were Long Queues at their Shanghai flagship store to taste this dish. The magic or the soul of this dish comes from 老坛酸菜Sauerkraut from Laotan。(You can read the menu on how these Sauerkraut were produced). 人生无味,酸菜醒胃。
So, I ordered their famous老坛酸菜鱼 Sauerkraut Fish (Sliced Fish in Pickled Mustard Greens $28.80) instead of the other grilled fish 🐟 or crab 🦀 varieties !
Similar to their Shanghai store, they have instructions to eat this famous Sauerkraut Fish at the Compass One outlet. These 3-steps instructions were displayed in small signage on each table. ( At the back of this signage, it advises you not to use the handphone and be focused while eating the fish. 莫玩手机,认真吃鱼). 🤣
Step 1: Drink the Sauerkraut soup🍵 to wake up your stomach!. 先喝酸汤醒下胃。⏰
Step 2: Eat Fish & Sauerkraut, with white rice. 再吃鱼片和酸菜,配上米饭🍚。
Step 3: Pour the Sauerkraut soup into bowl together with the rice. 最后来碗汤泡饭。
I followed these 3 steps obediently! My first gulp of the Sauerkraut soup was Wow! Wow! Wow! 🌟🌟🌟🌟Really potent! I finished the whole bowl of Sauerkraut soup in no time. ⏰Ringgggggg! Any Sleepy 😴 stomach would immediately became Awakened 😳!! My stomach was super Active and ready to receive all the delicacies that follows…
Fish slices was super fresh ( read that Tai-Er is using live fish for this dish)…and the Sauerkraut or pickled cabbage was really good.
The prints on the inner rim of the big bowl even states that 酸菜比鱼更好吃!which translates to: Sauerkraut tastes better than the fish!
You can see how much they emphasised on the Sauerkraut (酸菜).
Glad that I am able to try this dish without flyiTheyng to Shanghai! 👍👍👍👍
Note: Sauerkraut Fish is not for Everyone. It is for those who can take Sauerkraut (酸菜) or those who likes to taste different varieties of food ( Food adventurers ).
Next round, I will try their grilled fish & crabs. They have 10 different Unique flavours of Grilled Fish! There is something for everyone.
---
@ WESTERN FOOD (HALAL),PUNGGOL 西餐,

榜鹅
福气鱼🐟Hoki Fish & Chips (Halal) at Tebing Lane Container Park last night. 福气鱼吃了会填添多一点福气Hoki吗?🤣
A nice place by the River 💧(Sungei Serangoon) to chill-out after my work. Great for families too. Usually more crowded during Fridays & Weekends
---
@ FUSION FOOD, SENGKANG 西餐

, 盛港
ZOEY'S DINER

.
Address: 1 Sengkang Square, #01-01, CompassOne, Singapore 545078.
Opening Hours: 11am to 9.30pm daily.

If you look at their cute company logo, you know that Zoey's Diner specialises in Buns (Burgers).
Their menu is quite cute 🥰 too. Baobaes(宝贝) treasures in their menu is a pun with bun ( 包贝)。I remembered a song包(宝)贝对不起,我要吃了你,你不要伤心⋯ 🤣
They served brioche buns & steamed buns. For first-timer, just try their brioche bun first.
Zoey's Chicken at Zoey's Diner should be their signature! So, I ordered:
Zoey's Chicken : Marinated Chicken Thigh, Tomatoes, Lettuce, Homemade Garlic Aioli, Brioche Bun.
A Brioche Bun is a 'richer' bun.
Rich as in it will contain additional ingredients like eggs, milk and butter which makes the brioche bun different from ordinary bun. It is soft and tastes nice. special.
I saw their Buttermilk Fried Chicken (with steamed bun) on their Facebook. Looks good.
For those who are food adventurers and want to try something new. If you have tried, let us know your experience. 👍
---
@ VEGETARIAN FOOD & LATTE,PUNGGOL 素食,

榜鹅
Water Drop

💧

Tea House. 滴水坊。


Address: Fo Guang Temple 佛光山, Level 3.




1 Punggol Place Singapore 828844.




Opening hours:

Tuesday to Sunday: 10.30am to 5.30pm




( Saturday until 6.30pm ). Mondays closed.




No car parking. Just park at hdb carpark beside venue

.
Tel: 64110596 (tea house appt).
Nice quiet place for a Vegetarian meal and a cup of "佛" Latte at a Chinese Temple in Punggol. Ideal for yum cha 饮茶,they have many different types of tea and vegetarian food.
Their menu will include more items during the weekend, 初一,十五。
Note:  During covid, the only entry point is located at Basement 1, got down by the ramp that leads to their Private carpark (Not for visitors). Safe Entry scanning will be done at the counter there. After scanning, take the Lift up to Level 3 to go to Waterdrop 💧 Teahouse. Need to book appointment before you go during covid period. Tel: 64110596. You are only allocated to 30minutes to finish your meal.
---
@ TAIWANESE STREET FOOD,PUNGGOL 台湾小吃,

榜鹅
Big Brother Yummy Chicken 大师兄台湾大鸡排
Address: Blk 218 Sumang Walk Singapore 820218. ( Foodcourt ).
More Pictures/comments on Facebook Page:
https://www.facebook.com/611782339290679/posts/1034912600310982/
Taiwanese delicacies. I intended to try their 台湾盐水鸡 Salted Chicken with Vegetable, but this requires choosing other ingredients similar to mala stall.
My stomach was growling and I needed to eat fast, so I ordered their signature number 1: Big Brother Yummy Chicken 大师兄台湾大鸡排!
It was big and when it arrived, it was already cut into smaller rectangular one-mouthful slices. The Yummy Chicken was covered with their 招牌pepper & chilli 🌶 powder!
🚨🚨🚨This type of fried chicken, it is BEST when you eat it lips-burning 🔥 hot.
Once they cool down it won't be so nice, so forget about tabao-ing (takeaways). If you tabao, don't complain about the 🥶cold chicken being soggy & oily.
I have not ate such a big piece of fried chicken for a long long time. It was few years back when we traveled from Taipei (North) 台北 to Taichung台中 to Kao Hsiung 高雄 (South), hopping from 🌜夜市night market to the next one, eating numerous kinds of XXL炸鸡排 。
One of the best we found was a 👹魔鬼炸鸡排!比面大!There was even one stall in Taichung Feng Chia Night that claimed that they massaged the chicken meat for 8 hours before frying & bbq, making the meat more tender! [台中逢甲夜市必吃]馬莎雞 炭烤按摩雞排!每塊都按摩8小時。不裹粉吃起來更嫩口! And i remembered its queue was super long, and we joined in the the wait to try the famous massaged chicken. Had lots of fun then.
We went up 阿里山⛰and I asked the native ladies, 阿里山的姑娘真的美如水💧?And they said they are not pretty as described in the song 美如水💧。I said have! I saw! Then they said they were mostly from Taipei 🤣and other places.
This 大师兄 鸡排 Yummy Chicken certainly brought back some of the wonderful foodie 🍽memories in Taiwan!!!.  Will their 台湾盐水鸡 Salted Chicken with Vegetable next time.
大师兄 Yummy Chicken, Blk 218 Sumang Walk Singapore 820218.
(They have another stall at 660A Edgedale Plains (Foodcourt), Punggol).
Note: Everyone's taste & preferences are different. The above info is just for sharing, to share more choices you can explore.
---
@ CZE CHA ZICHAR,
SENGKANG 
煮炒
,
盛港
Pin Wei Fang Zichar 品味坊煮炒
Address: Kopi Tiam Square, 10 Sengkang Square  S(544829), opposite Compass One, Sengkang.
水晶河粉 🌟Crystal Hor Fun,虾米啦啦 🌟Lala with Shrimplets,炸苏东仔 Deep Fried Baby Squid from PinWei Fang Zichar. 品味坊煮炒。
My friend's first time trying this Crystal Hor Fun. Hmmm, something different. "Nice" he said.
We ordered a different cooking style for the Lala instead of the usual sambal Lala. When it arrived, it looked pretty plain. But when I put one of the Lala into my mouth, Wow….it was bursting with Hae B 🦐 shrimplets flavour. Very nice 🌟🌟🌟🌟. Thumbs up from me and my friend.
Their KL Style Hokkien Mee and Curry fish head are good too.
---
@ XIAO LONG BAO & LA MIAN,SENGKANG 小笼包拉面,

盛港
LA MIAN XIAO LONG BAO
Address : 417 Fernvale Link Foodcourt S(790417).
I ordered what the signboard says. La Mian (Beef) & Xiao Long Bao.

I like the texture of the LaMian. QQ, long and chewy. Beef okay, soup not as flavourful as I imagined although abit salty. 🌟 for the texture of the La Mian.
Xiao Long Bao, skin was quite thin, translucent with inside "soup" visible. Fillings abit little, but for this price point , don't expect to be like Din Tai Fung, it is quite okay lah👍.
Shanghai juicy fresh meat Xiao long Bao 6pcs. $4.50.(上海鲜肉灌汤小笼包)
Braised Beef La Mian.(红烧牛肉拉面) $4.80.
---
@ MENTAI JAPANESE CUISINE,SENGKANG 全蛋面,

盛港
MENTAI-YA. 明太屋
Sengkang Branch Address at Blk 473 Fernvale Street S(790473). Foodcourt.


🚇

Next to Kupang LRT. Next to Sheng Siong Supermarket.


🈺

Opening hours : 11am to 3pm & 5pm to 9pm Daily.
More Pictures / Comments on Facebook Page :


https://www.facebook.com/611782339290679/posts/1028939194241656/
Their Chinese Kanji name is 明太屋。Without a doubt, you know they are specialised in mentai (明太). 💡So what should you order?
1) Mentai Chicken Don (They have spicy & non-spicy Chicken). I ordered the spicy version. Don = 🍚Rice.
2) Mentai Salmon Don.
10) Tamago Mentai Yaki. (Japanese folded layered egg🥚 omelette).
---
@ FULL EGG WANTON NOODLE,SENGKANG 全蛋面,

盛港
See "Mee" Again. 又见麵
Address: COMPASS ONE #04-11. ( Kopitiam Foodcourt ).
3 mini "prawn curry puffs " with full-egg-noodle.
These are not curry puffs, they are fried prawn dumplings 炸鲜虾水饺. One of our member Lena sent me a "bloated" version and they looked like 元宝。These fried Shui-Jiao's filling are flavourful, tastes nice.
As for the noodle, they are slightly skinnier than normal noodle. You can see a sign at this stall that says "100% Hand Made Full Egg Noodle. 百分之百手工制做全蛋面".
Noodle is nice & QQ. As for the sauce, I personally feel it is a bit light for me. Think I am abit more 重口味。Next time, I may add more sambal chilli.
Not many stalls uses 100% egg noodle. The QQ-ness is definitely up a notch, and very good for those tabao-ing, it's texture will remain almost unchanged and won't be "pong pong" or "expanded & soft" 🤣 unlike the "normal" noodles.
Oh Ya! The soup is very tasty !
When I am ordering, I saw an elderly lady coming back to ask for more soup!! She said 汤很好喝。 I absolutely agree with her 👍.
My order is number 7 on their menu. 香炸水饺全蛋面。$4.90。You can use Kopitiam card to pay.
自制的叉烧不用人造红色素。采用天然红色色泽, 以及独特香味酱。
Another notable pointer: Their Char Siew are made with natural red herbal coloring (No artificial red coloring!). Heard it has unique flavor too! Can explore… Anyone tried? Do share your experience in the comments section 👍.
Can try if you are around Compass One, Sengkang MRT.
The shop name is quite easy to remember!See "Mee" Again. 又见麵。
---
@ CZE CHA ZICHAR,PUNGGOL 煮炒,

榜鹅
Leong Ji Kitchen 量记家乡小厨
Address: Blk 658 Punggol East #01-10 S(820658). ( Foodcourt ).
This Cze Cha (Zichar) stall is 👍👍!
And it bears the same name as the Coffeeshop. They should be the master tenant.
The pyramid that looks like ice kacang from far, and looks like rojak when you are near is one of their featured dish: Cuttlefish & Kang Kong. It is a very good appetitizer!! Quite Unique, very creative!
🌟This pyramid has got many layers. On the top is fried shredded cuttlefish, and as you go down (like ice kacang), you can find chilli-cuttlefish, then shredded turnip and tau-pok, and fried kang-kong with flour. And these all comes coated with a very power premium prawn paste that hits you immediately! And shredded mango and generous sprinkles of peanuts. 🌟Appetitzer at $12.
I also ordered their San Luo Hor Fun. It arrived with lots of gravy and slices of mushroom. Can taste a little bit of wok hei, fish fresh, quite good. (I prefer the dry-er version).
If you notice their main signboards, their signature would be Double-flavour Crab 🦀 (双味螃蟹)! For those more adventurous, can try their Intestine with dried shrimp (蝦米黄梨生肠), Hot-plate prawns served with pandan leaves (铁板班兰叶蝦🦐) and curry fishhead.
One of our members Mr Toh mentioned that their 滑蛋Hor Fun is not bad 👍.
This Cze Cha stall is good 👍👍👍, can go try!!!  Think they just moved from Punggol Settlement to Punggol East.
---
@ THAI CUISINE, SENGKANG 

泰国菜肴

,

盛港
Wanton Mama
Address:  Blk 455 Sengkang West Ave Singapore 790455. Foodcourt.
More Pictures / Comments on my Facebook Page :
https://www.facebook.com/611782339290679/posts/1020248041777438/
Wanted to order the Seafood Tom Yum Noodle on the signboard, but stall staff said that is Tom yum soup, not wanton noodle. 😅
So, I ordered:
Signature Thai Wanton Noodle. $5.90
Tom Yum Soup + Rice. $6.50.
3pcs small Thai Fishcakes. $1.90
Chilli is self-service for the Thai Wanton Noodle. It is fiery hot 🔥 🔥 🔥, but you need to add some!!!
Thai fishcakes are smaller size than I expected, but it's $1.90. Tom Yam soup quite power, sour sour. Taste ok.
Something different,  can try try if you are around this area.
---
@ FRIED RICE,
SENGKANG 盛港
King of Fried Rice.
Kopitiam Square, outer row facing road. Opposite Compass One.
Address: 10 Sengkang Square, #01-48, Singapore 544829
Opening hours : 11.30am to 2.15pm , &
4.00pm to 10.00pm ( Last order 9pm).
(Everyday: Mondays to Sundays)
King of Fried Rice. Wah, who dares to declare themselves as King 👑 of Fried Rice!

This new Sengkang branch spun out from their famous Golden Mile flagship stall. King of Fried Rice opened their doors in Sengkang about a month ago, so I thought the queue will be shorter now.
I joined the queue today at 6.30pm as it seemed shorter. Took half an hour to reach the front counter to place my order. And the waiting time their staff mentioned was 1.5hours!
🎯 When my queue number flashed on the display, it was 8.30pm! Total 2 hours since I joined the queue.
My order was XO Fried Rice with pork cutlet. I was delighted when my order came out from the kitchen. Presentation looked good!
The big pork cutlet from the TOP view, covered almost all the XO fried rice. I asked their staff for some chilli 🌶.
The first thing I did was trying a spoonful of the XO Fried Rice. Mmmmm, very nice indeed! They used the short grain, and every grain is separate. And not too oily, not too dry. (They always say Din-Tai-Fung style).
Next, the big pork cutlet. It was pre-cut, with some of the edges still attached. I struggled a little to use the plastic fork and spoon to take out one small piece.
It tasted as good as it looks. Very well marinated. Love the flavourful peppery meat. Still abit juicy, same not oily & not too dry. It was very well done.
Yummy, Mmmmmmmm…. I finished the whole plate, slowly enjoying the pork cutlet and the fried rice spoon by spoon. It was indeed really nice. No wonder people are willing to queue and spend 1-2hours waiting, just to taste their Fried Rice.
Their Daily opening hours is
11.30am to 2.15pm
4.00pm to 10.00pm ( Last order 9pm).
⚠️ warning: Not suitable for not-very-patient, or if you are coming with your spouse or date or hungry kids! Better warn them about the super long waiting time. 🚨
A common strategy would be placing your order first then go shopping at Compass for 1hour, then collect your order.
Or you can got earlier at 11.30am or 4.30pm. The waiting time will be shorter.
If you go during peak hours (like me 😅), then be prepared to be 🦒🦒🦒🦒🦒. Wait Long Long!!! Haha, Neck longer than giraffe 🦒! I grew taller a few cm after the wait !
Not sure if they are the 👑 King, but they definitely belongs to the "Royal family" of fried rice for this price point🏆. Hope they can keep up the standard & consistency.
It is certainly a stall that will come to my mind when I think of fried rice! The only thing in the way 🚦will probably be the Waiting Time⏳.
Eat it once in your Lifetime, especially if you are near Sengkang or Punggol area! DIE DIE MUST TRY ARH 🤣
---
@ AYAM PANGGANG,PUNGGOL 烤鸡,

榜鹅
UNCLE PENYET
Address : Blk 322 Sumang Walk #01-01(Foodcourt) Singapore 820322. Punggol.

---
@ MODERN POPIAH,SENGKANG 薄饼,

盛港
SOUPERSTAR
Address: COMPASS ONE #B1-39.
Opening hours: 10am to 9.15pm daily.
It's a Present 🎁.
It's a Gift 💝
And it is a Popiah !!!
There was a short queue in front of this shop at Basement One near escalator, Compass One , Sengkang.
The name of the shop is Souperstar. Think it is a pun to Superstar, so I guessed they specialise in soup.
I asked an elderly auntie in the short queue, What is Nice?. Auntie said popiah! I took a closer look… hmmm quite interesting. Price starts $2.90 for traditional popiah. Ok, let's try.
Ordered one traditional popiah and one Sweet Thai Chicken popiah ($4.90). Takeaway.
They were so nicely wrapped like a gift 🎁!
Gave my Mumil the traditional one and I took the thai popiah.
I tried to cut it, but the skin tore abit, so I decided to Bite it whole with the wrapper. Yum yum. The skin is soft, Nice, I think tasted peach 🍑 in my popiah. Sweet and lots of white chicken chunks and other ingredients. Quite nice. Quite pricey, but can try if you have not tried Modern Popiah before. At least, I think it should be healthier than a burger. You can try with their package ( popiah + soup + drink ).
My mumil said normal, nothing special. (hers is the traditional popiah). She prefers her Bendemeer traditional popiah. She said there is a good popiah stall at Kopitiam Square.
So, if you want to try Modern popiah, I suggest you go for the Sesame Chicken , Sweet Thai Chicken or Seafood Wasibi Mayo or Chicken Masala Popiah. Or the 3 in 1 package. Quite nice.
It may not be suitable for everyone, but it is definitely something interesting to try. And don't forget to Enjoy the Present 🎁.
---
@ BURGERS (HALAL),PUNGGOL 汉堡🍔,

榜鹅
BURGS BY PROJECT WARUNG.
Address : Blk 308C Sumang Walk (Foogle Foodcourt) Singapore 823308. Punggol
This stall was recommended by a client.
So many types of 🤤burgers!!! Pulled Beef Brisket Burger. 72 hours slow cooked brisket braised in barbecue sauce and butter bead lettuce.
You can check my Facebook page post for comments & feedbacks:
---
@ PANCAKE (MEE CHIAM KUEY), PUNGGOL 面煎糕. 现作现卖,

榜鹅
SUMANG PANCAKE.
Address: Blk 312A Sumang Link(Foodcourt) Singapore 821312. Punggol.
面煎糕. 现作现卖。 Mee-Chiam-Kuey🌮Pancake freshly made by a Master. Must try!
This pancakes will be freshly made by this demure lady stall owner. A one-woman-operation stall, she has been running this Sumang Stall for 5years!!! So rest assured that your pancakes are made by a Master (not part-timer) !
A masterpiece , an art piece for every pancake, perfectly crafted with many years of experience!
Besides the traditional peanut or orangy coconut 🥥 or red bean fillings, you can choose to add cheese 🧀or blueberry or even Durian !!! Chilli shrimp 🦐虾米辣 (Hay Bee Hiam) too !!!
If you have been to Lor Ah Soo #02 hawker, her auntie pancakes stall has been there for ages. She was trained and practicing her pancake kungfu at Shaolin Lor Ah Soo before she helmed this Sumang stall single-handedly 5 years back. 💪💪💪.
Not easy! She must have some steel in her! Please go support this stall! And share as I really think this hidden gem 💎 deserves more business!
Very nice! A must try if you are around this area in Punggol. You can also Tabao her own-made white fungus dessert too! Nice!
---
@ ASSAM LAKSA, SENGKANG
亞參叻沙

,

盛港

D'LAKSA.(Halal certified establishment).
Address : Compass One #B1-46, 1 Sengkang Square, Singapore 545078

My first encounter with this Super Assam Laksa was in JB (Malaysia) many many years ago, when a friend said this store is a must-try!

It came to Singapore, and in Compass One a few years back. Now, they have a few outlets in Singapore. If you like Assam Laksa, you must go try.

Assam Laksa + Assam Lobster 🦞 balls. (HALAL)
Before serving you, they will express out a dash of dark prawn paste into the gravy, completing the savoury Assam Laksa.
The sour-ness, the sardine fish, the 🧅 onion, shredded cucumber… Really very potent assam laksa. You are going to remember this for a Long time.
Affordably priced at $4.50. Try the steaming hot lobster balls too. 5 for $3.50.
---
@ PAPER WRAP SEAFOOD TREASURE – CZE CHA ZICHAR, PUNGGOL 纸包海鲜大宝, 煮炒

榜鹅
Le Xiao Chu 樂小厨.
Address: Blk 322 Sumang Walk #01-01(Foodcourt) Singapore 820322. Punggol.

We ordered their Paper Wrap Seafood Treasure 纸包海鲜大宝(Crab 🦀+ Flower Crab). This treasure include other seafood like prawn, Lala, mussels, slipper prawn 虾婆,corn , potato, etc… we chose black pepper cooking style.
+ Fu Rong Egg (for the kids) + garlic nai bai vege + stir fried beef. 3 adults + 2 young Kids enjoyed this meal.
---
@ HERBAL HOR FUN SPECIALTY, SENGKANG 驰名香滑河粉

, 盛港
Shi Hui Yuan 實惠园 (established since 1969).
Address : Compass One #04-11 Kopitiam Stall 18, nearer to Halal chicken rice section.
See more pictures: HERE.
Shi Hui Yuan 實惠园 Original Singapore Hor Fun.  Established 1969.  They were awarded Michelin Gourmand in 2016, 2017, 2018, 2019.  Their Compass One outlet just opened in August 2020.
Famed for its collagen-rich gravy and nutrient-loaded herbal braising sauce that has been cooked uninterrupted for the last 30 years, SHI HUI YUAN is a uniquely Singapore-invented Hor Fun. Their recipe using over 30 herbs such as Dang Shen, Yang Shen Xu and Luo Han Guo, in line with their Cantonese cooking philosophy of "Food as Medicine". The herb-based braising sauce has been continuously stewed over 30 years with meat and bones from chicken and duck. Each plate of Hor Fun is packed with more than 1500 mg of collagen.
Wow, really very good. Although they have a promo going on, I went for their signature Blissful set which consist of all you need to try: Braised Chicken Drumstick meat, Duck Drumstick meat, Spare Ribs, Braised egg 🥚& mushroom🍄. Infused with wonderful gravy that has more than 30 herbs which are nutritious for our body.
The man scouped some of gravy from each of the 4 big earth jars🧉, and place them into my bowl. Wah ! Shiok… The Zup (gravy) contains all the goodness and all the nutrients for over 30 years! 精华!好料. 
The Hor Fun was thin and smooth, and even the simple looking chilli also gave me a wow.  Mushrooms and egg, soaked in these power gravy, were a notch above normal braised stuff.
They certainly deserved to be awarded Michelin Gourmand for 4 times! Felt blissful after having this bowl of braised nutritious herbal meal. 
---
@ BAK CHOR MEE, FISHBALL NOODLE & LAKSA, SENGKANG 肉脞面,鱼圆面,叻沙

美食, 盛港
Balestier Noodle 馬里士他面家
Address:  Blk 205D Compassvale Lane Singapore 544205 (Multi-Storey Carpark)
Opening Hours: 4.30pm till 1am-2am, Sundays off.  (Do not go at wrong time 😉
Covid period Opening Hours : 5.30pm to 12am.  Sundays off.
This is One of the BEST Bak Chor Mee (BCM) & Laksa in Sengkang!
Only Open for dinner & supper only ( usually from 4.30pm to 1-2am. Since covid, opening hours shortened : from 5.15pm to 12am).  Closed on Sundays! 星期日休息
Formerly from Balestier Road, this popular stall shifted to Sengkang a few years ago. ( It is occupying the exact stall location of the once popular "Penang Kia Prawn Noodle" in Sengkang which faded away after some publicity. )
There is always a queue for this stall.   If it is really crowded, there are 2 queues.  Join the queue on the left to place your order, then move to the queue on the right to collect your order.
Their Bak Chor Mee (Signature),  Fishball noodle and their Laksa are very nice.  A lot of residents went there to order take-aways.  ONE OF THE BEST IN SENGKANG !  MUST TRY !
---
@ NONYA BLUE PEA NASI LEMAK,
SENGKANG 盛港
Kampung Kia Nasi Lemak 甘榜仔椰浆饭
Address: Kopi Tiam Square, 10 Sengkang Square #01-26 S(544829), opposite Compass One, Sengkang.
Opening Hours: 10am to 10pm daily.
For more pictures, click HERE.
A NEW addition to Sengkang food.  They just moved from Tywritt Rd to Sengkang, opened their Sengkang stall on 1 August 2020!
Nonya Blue Pea Nasi Lemak. Must try! I ordered number 9. Fried Sotong Set. Everything nice. Very Power sambal, not spicy but very flavourful & appetizing!
Saw a lot coming here to tabao. Rempah & Rendang Chicken 🐓 , Assam Fish 🐟 also quite popular. They even have lobster 🦞 set and soft shell crab 🦀 set. You can order Ala-carte too. ( Strictly No pork no lard.)
---
@ HALAL ASIAN CUISINE (CZE CHA ZICHAR),
SENGKANG 盛港
Lepak One Corner by Yassin Kampung
Address: Blk 326 Anchorvale Road (Anchorvale Horizon) Singapore 540326, near Sengkang Sports Hub.
Opening Hours: 10am to 11pm daily.
Anyone tried Durian Chicken🐤?
Lepak One Corner by Yassin Kampung (Halal). This branch opened in Anchorvale, Sengkang in 1st Quarter 2020.
They have other branches islandwide, notably in Kampung Admiralty (Woodlands) & Marsiling. Checkout their website : http://www.yassin.com.sg
Watch their video. They have 250 dishes. One of their signature dish is Kampung Durian Chicken! And Sambal Stingray & Smoked duck 🦆. And Sichuan Mala Fried Crab too & Claypot Tanghoon !. (not sure if they have the same menu for all branches, not sure if they have Durian chicken in Sengkang 😄).
It's Halal Cze Cha Zichar. 👍👍👍. Shall try soon…
---
@ AUTHENTIC CANTONESE PORRIDGE, PUNGGOL 廣東炸豬腸粥
Huang Hong Ji Porridge  黄洪記
Address:  Blk 269B Punggol Field #01-197 Singapore 822269.
Opening Hours: 7.30am to 9pm* daily, alternate Mondays off. *While porridge lasts.
Website: http://www.facebook.com/huanghongjiporridge
Huang Hong Ji Porridge is famous for its Authentic Cantonese Porridge that comes with Deep Fried Pig Intestines, renowned in Tanglin Halt since 1970s.  MUST TRY !!!.  They have been in Punggol in mid 2016. Click HERE for more photos and related post: https://sengkangtopunggol.sg/punggol-authentic-cantonese-huang-hong-ji-porridge/
---
@ VENDING FOOD, SENGKANG  自动自助餐机器, 盛港
CHEF-IN-BOX VENDCAFE
Address:  Blk 320C Anchorvale Drive #01-01 Singapore 543320.
Singapore's First Vending (Machine) Cafe opened in Sengkang in August 2016.   Chef-in-Box VendCafe is located at the void deck of Blk 320C Anchorvale Drive next to Nan Chiau Primary School (About 5 minutes walk from Sengkang MRT). VendCafe operates 24-hours a day just like 7-11 convenience stores, you will can always something to eat at any time!!!
The Local Delight "Chef" dispenses local dishes, such as Seafood Hor Fun, Chicken Casserole Claypot Rice, Curry Chicken with Rice, Vegetarian Rice Noodle. The Western Delight "Chef" cook up Western-style food like Chicken Bolognese with Spaghetti, Braised Chicken in Duo Olive Pronto Sause.
First of its kind in Singapore !!!  GO EXPERIENCE a NEW & FUN way of ordering for your Food.   Click HERE for more photos. https://sengkangtopunggol.sg/singapore-first-vending-cafe-sengkang/
---
@ CHAR KWAY TEOW, SENG KANG 著名炒粿条, 盛港
Armenian Street Fried Kway Teow  亚米尼亚街炒粿条
Address: Blk 303 Anchorvale Link Singapore 540303 (Foodcourt @ Multi-storey Carpark)
Featured on TV in Channel 5 < Our Makan Place Lost & Found >  MUST TRY !!!
---
@ TAIWANESE DELICACIES 台湾小吃, PUNGGOL 

榜鹅
Tai Feng Wei 台豐味
Address: Blk 322 Sumang Walk #01-01(Foodcourt) Singapore 820322. Punggol.
For more pictures, click HERE
Fish Roe Egg Fried Rice + Pork Chop. 鱼籽蛋炒饭+猪排。(Number 7 + Number 12 on their menu)
This stall (Tai Feng Wei), serving Taiwan Delicacies, was recommended by one of our members of Sengkang To Punggol Facebook group, Mr Toh.  Wow! The Fish Roe Egg Fried Rice was really good. Look at the amount of fish roe on top of the Pork chop! A wonderful meal despite having to wait about 20mins.
Thanks to Mr Toh! And now, we have a Taiwanese food options now 台湾小吃 👍👍👍.
Take a look at the their menu. Their braised pork rice 卤肉饭& noodle looks good too. Sesame Oil noodle dry 干拌香油面& Taiwanese popcorn chicken 盐酥鸡.  A few in the Facebook group tried the sambal petai fried rice before, and they highly recommend it.  This sambal petai fried rice (Number 8) is on my radar now 😉
---
@

ZI CHAR ( CZE CHA ), SENGKANG 

煮炒

美食,盛港
CHING SEAFOOD 曾好味海鮮煮炒
Address: Blk 330 Anchorvale Street #01-02 Singapore 540330 (Foodcourt).
A LIVE Fish Zichar Cze Cha in Sengkang!  Very Affordable Prices ! Many nice dishes including Coca Cola Chicken!  Watch the video.
---
@ Salted Fish White Bee Hoon 

鹹魚白米粉

ZI CHAR ( CZE CHA ), SENGKANG 

煮炒

美食,盛港
ZHEN DA JI HONG KONG STREET 香港街珍达记
Address: Blk 182A Rivervale Crescent Singapore 541184 (Foodpark foodcourt)
Another Hong Kong Street Cze Cha (Zichar) in Sengkang.  They have other branches in 10 North Bridge Rd, 154 Serangoon North Ave 1.
Salted Fish Fried White Bee Hoon cost $6.  Super Nice. Ingredients & Prawns are very fresh. Fried with Flaming Fire, and be sure to taste the "Wok Hei".  This stall also serves 881(XO) Fish head Steamboat, Crab Bee Hoon and many Cze Cha dishes. It is very much different from Sembawang White Bee Hoon. This is dry version White Bee Hoon, very fragrant Wok Hei and super nice with salted fish !  MUST TRY if you are in Seng Kang !!!  This is a food Gem in Sengkang!   
Hong Kong Street Zhen Da Ji is also well known for its XO Crab Bee Hoon, XO Fish Head Bee Hoon, Prawn Paste Chicken, San Lau Hor Fun, Cuttlefish Kangkong, Curry Fish Head !!! But the Salted Fish White Bee Hoon is a MUSSSTTTT TRYYYYYYYY !!!  You can try its Moonlight River. 夜光河 (粉) and 豉汁河粉 too !

三捞河粉。San Lou Hor Fun. Had this last night.
Do not be deceived by its slightly pale appearance, with white fish slices and white bean sprouts. Buried beneath them is the 🌟wok-hei stir fried Hor Fun.
Very fresh fish slices and still "crunchy" bean sprouts, together with the Hor fun and its limited tasty "chup" gravy and complementary green chives… it is one of my favourite san lou Hor Fun. My eldest son's favourite too.
---
@ PAN FRIED BEE HOON, SENGKANG 三楼米粉

, 盛港
Fu Man Seafood Cze Cha Zichar 福满海鲜
Address:  Blk 338 Anchorvale Crescent Singapore 540338 (7 Star Foodcourt)
Pan fried Bee Hoon. 三楼米粉。Something different to explore.
Presentation-wise it is different, taste-wise it's like Xing Zhou Mi Fen.
Looks like Chao Ta (burnt) Bee Hoon, however it is not Chao Ta, not Crispy…it is still quite moist. If you really want Chao Ta, you can request them to see if they can pan fried it further…
Note: San Lao Hor Fun (usually with fish slices & bean sprouts ) is different from this San Lao Bee Hoon (no fish slices at all).  Taste -wise it is quite normal. presentation looks really good.  It would be a star if they can pan-fried it further to be closer to Chao Ta Bee Hoon 😉
This newer foodcourt is located near to Bellewaters & OLA EC, Sengkang
---
@ CLAYPOT RICE, PUNGGOL 

榜鹅
大宴 Local Delights
Address: Punggol Plaza #01 Koufu Foodcourt.

Sesame Chicken Claypot Rice. Nice. Got dices of salted fish, lup-cheong, and best of all is that the rice don't really stick to the claypot. I was able to finish all the rice with a clean claypot.
Apparently if you look at their menu, they are specialised in rice noodles 米线。
One of the newer stalls in Punggol Plaza. Recommended by one of my clients in Punggol.
---
@ MEE KIA OR MEE POK DRY, PUNGGOL 干面

,

榜鹅
Yu Pan 御品
Address:  Blk 322 Sumang Walk, Punggol, Singapore 820322 (Foodcourt)
Opening Hours: 7.15am to 9pm daily
Mee Kia dry $3.50, comes with a very nice bowl of soup. The brown thingy in the soup are called fish sticks. Nice 👍.
322 Sumang Walk Foodcourt. Just opposite Piermont Grand EC Executive Condo. They have another outlet at Sengkang Blk 330 Anchorvale. This Punggol Sumang outlet has been in business since early 2020 in this newer foodcourt.
Eat on site, taste better. Nice soup and fresh ingredients. Excellent chilli. If tabao, soup ingredients became overcooked, and noodle abit more soggy… Covid period…no choice, tabao lor.
---
@ AUTHENTIC THAI CUISINE, SENGKANG 

正宗

泰国菜肴

,

盛港
Nakhon
Address:  Compass One #02-30, 1 Sengkang Square, Singapore 545078 (Sengkang MRT)
Opening hours: 11.30am to 9.30pm daily.
Website: https://nakhongroup.com/nakhonkitchen/
Order Hotline: 69622010
Very nice authentic Thai food.
More information. pictures & menu for Nakhon (Compass One) in https://sengkangtopunggol.sg/nakhon-authentic-thai-cuisine-at-compass-one-sengkang/
---
@ HALAL MALAY & ASIAN CUISINE (VENDING), SENGKANG

盛港
POWER NASI LEMAK BOON LAY SINCE 1971. ( PERMANENTLY REMOVED )
Vending Machine Address:  Blk 473A Fernvale Street, Singapore 791473. Inside D'Laundry Shop
Power Nasi Lemak Vending Machine in Sengkang, near Kupang LRT. Boon Lay Power Nasi Lemak since 1971. Automation…self serve, 24 hours!. I still prefer traditional way. It will be good if you have a sudden craving late in the night or early wee hours.
---
@ KELANTAN ORIGIN NASI KUKUS, PUNGGOL

榜鹅
YES ! NASI KUKUS (Halal certified)
Address: 273C Punggol Place foodcourt (very near Punggol MRT station).
For more photos click here.
Nasi Kukus, literally translates to Steamed Rice. This halal-certified stall specialize in Kelantan traditional steamed rice.
White rice are placed in small separate aluminium bowls before they are steamed in a large special container. This steaming method makes the rice softer & fluffy.
Each Nasi kukus set order comes with one small bowl of steamed rice with a selection of one main dish (chicken, fish, sotong, prawn or mutton). It is served with scoop of curry sauce over the rice, half a hard-boiled egg, Achar and sambal chilli. You can add fish cracker for an extra dollar. Their curry chicken set is $3 ! Value for money.
I ordered their Signature Fried Chicken Nasi Kukus at $5. ( it is available on Grab Food, but this chicken set price is $8.50, so my advice is to tabao at the physical store!). It comes with a Whole chicken thigh. I read reviews that they use only fresh chicken thighs (not frozen) and they were cooked in small batches.
The fried chicken thigh was big! It definitely taste better if you eat it by holding it with your fingers. This size certainly requires more finger holding power, but it was really Fingers licking good! My wife, my Mumil and I loved the crispy skin, full of flavours. And the meat beneath remained juicy. The curry gravy, sambal chilli and Achar completes a satisfying lunch.
Besides Nasi Kukus, this stall has another version of rice called Nasi Dagang Trader Rice. It is a mixture of white & red rice, cooked in coconut milk. It costs 50cents more.
Will be back next time to try their Nasi Dagang. And I will add the fish cracker.
Need to do more exercises after such heavy meals 😁.
---
@ NASI BRIYANI, PUNGGOL

榜鹅
AL HABIB
Address:  Blk 312A Sumang Link, #01-05 PUNGGOL PARCVISTA, Singapore 821312.
Website: http://www.alhabibsg.com
Mutton Briyani. Tabao by Delivery. Nice Indian Muslim Food!  They have about 14 stalls islandwide.
---
@ SARAWAK KOLO MEE, SENGKANG 砂捞越干捞面,

盛港
Lin Yu Mei Sarawak Kolo Mee 林玉梅
Address:  Blk 350 Anchorvale Road foodcourt. Singapore 540350. (nearby Sengkang Swimming Pool & next to Sengkang Methodist Church).
Opening hours: 8.30am to 7.30pm daily except Tuesdays(off).
For more photos click here.
Authentic Sarawak Noodles with homemade red chilli. Flavourful curly springy pale noodles, coupled with tasty minced meat and several slices of char siew.
The pale yellow colour of the noodle is attributed to the fact that Only Egg Whites are used in the noodle production process. It curls and really look like instant noodle, but definitely more flavourful and more springy texture. Unlike normal yellow noodle, it doesn't have the "Kngee Bee" (alkali taste).
I went to tabao at the physical store at 350 Anchorvale. The tabao packaging may look really small at the first glance. However, after unpack into a bowl, the portion is quite okay.
They are available on Grab food. Their main stall is located at Haig Road Hawker Centre, where they serve Sarawak Laksa too. (Laksa not available at Anchorvale).
---
@ BIG PRAWN NOODLE, SENGKANG 大虾面

,盛港
Big Prawn Noodle 大虾面
Address:  Blk 205D Compassvale Lane Singapore 544205 (Multi-Storey Carpark).
Opening Hours: 7.45am to 6.30pm.  Closed on Thursdays.
One of the new stalls in Sengkang.  One Man show. Prices starts at $5.50.  Nice Rich prawn soup.  They have a few branches in Ang Mo Kio Ave 10.
---
@ ROASTED DELIGHTS, SENGKANG 盛港
JI DE LAI ROASTED DELIGHTS 记得来。
Address: Blk 417 Fernvale Link, Singapore 790417, Foodcourt
Very nice Roasted Duck, Roasted Pork & "black " Char Siew .  Tabo.  Thod the stall holder that I wanted $5 for each type of meat.  Total $15.
---
@  LIXIN Fishball Noodles 立兴鱼圆面

. 

Sengkang 盛港
Address: Rivervale Mall, NTUC Foodfare foodcourt at #01 level.
Lixin is famous for their fishball, made with 100% yellowtail fish. Their fishballs are soft and flavourful. I love their kyaws (fish dumplings) too! 古早的味道.
You can check out their website at http://www.lixinfishball.com/about/
---
@ COIN PRATA & BRIYANI, SENGKANG 印度美食,盛港
Mohamed Javed Indian Muslim Food (Nasi Briyani & Prata)
Address: HDB Fernvale Rivergrove, Blk 473 Fernvale Street Singapore 790473 (Coffee Stop 473 foodcourt, next to Sheng Siong Supermarket)
This is one of the best Prata stall in Sengkang. Blk 473 Fernvale Street Coffeeshop. Mohamed Javed Indian Muslim Food. Many stalls have changed tenants, this is one of the few that have been here for a Long time.
They are also famous for their Nasi Briyani. Located besides Kupang LRT Station (Sengkang) and Sheng Siong Supermarket. You can shop for groceries after breakfast.
The dish you MUST TRY is their Chicken or Mutton Briyani,  SUPER NICE !  My muslim friends says it is better than a lot of other places. REALLY MUST TRY !!  Also their Prata and Thosai !!!!
---
@  HA JUN Korean Restaurant

. 

Sengkang 盛港
Address: Seletar Mall (Shopping Centre), 33 Sengkang West Avenue #B1-02/03 Singapore 797653
Made its entry into Sengkang early 2020. Ha Jun has many branches in various parts of Singapore. Affordable Prices.  Kimchi Beef Noodle. $5.50. Free Hot Wheat Tea.
---
@  PAMAN PANGGANG Indonesian Cuisine

. 

Sengkang 盛港
Address:  Blk 338 Anchorvale Crescent Singapore 540338. (Food Court).
Specialty : Ayam Panggang & Satay.  This Outlet in Sengkang anchorvale opened since late 2019. They have other outlets in Ang Mo Kio & Bukit Merah. Ordered their Nasi Lemak for breakfast. Their Chicken was marinated with nice spices. $3.50. You can try their curry puff , Ayam Panggang or other Nasi Padang Dishes for lunch and dinner.
---
@  RAMEN HITOYOSHI @ THE 

SELETAR MALL. 

Sengkang 盛港
Address:  The Seletar Mall, #02-K6 , 3 Sengkang West AveSingapore 797653.
Unagi Don & Garlic Tonkatsu Ramen with All. You can fully customise your Ramen when you order…they have a column for you to tick for its soup…less/normal/more oily, thick, flavour, saltiness, spicyness, and even the thickness of your noodle.
You can go for ultra thin noodles if you want. We ordered the "normal" ramen noodle they had, which is already quite thin 🤣
---
There are many more pages. click on your favourite number for random choices